Welcome!
So, what's been going on with you this year? I welcome feedback and questions anytime so send me an email.
My list of books keep growing.  Check out the recent books in the fiction and nonfiction book series below.
If you're seeking inspiration, I'm revising older devotions and looking forward to writing new devotions and bible studies under Cookie Aisle.
As you can see, never a dull moment in my life. Don't forget to SUBSCRIBE to my newsletter. I promise you I won't send a ton of emails, but I like to stay in touch with readers. You can also find all my online spots in the footer below.
Reed Family Novellas
GENRE: Romantic Suspense/Christian Fiction
In 2016, I'm excited to bring you a novella series. Meet the brothers and sisters of the crime-fighting Reed Family. Kicking off the series is Detective Jo Reed-Powell whose hunting down a copycat killer in Broken Heart. Oh yeah and she's trying to come to grips with her cheating husband too.
Next up in the series is the youngest sister of the Reed family. Toni has been trying to start her life over after a brutal attack two years ago. Is the man responsible wreaking havoc on other women? Toni's determined to find out and stop him in Troubled Heart (December 13, 2016).
Read More About This Series
Eugeena Patterson Mysteries
GENRE: Cozy Mystery/Christian Fiction
Who doesn't like a good who-dunnit and romance? Meet Eugeena Patterson and her budding relationship with fellow retiree, Amos Jones in  Deep Fried Trouble and Oven Baked Secrets. Lemon Filled Disaster, the third book in the Eugeena Patterson Mysteries is on the schedule for Spring 2017.
Read More About This Series
Serena Manchester Series
GENRE: Romantic Suspense/Christian Fiction
This series is a spin-off from the Victory Gospel Series. Former reporter Serena Manchester has returned to her hometown, still finding a way to get to the bottom of crimes. Hostile Eyewitness is the first book in the Serena Manchester Series.
For those looking for book two in the series, Bittersweet Motives, is on the schedule for Fall 2017.
Read More About This Series
Victory Gospel Series
GENRE: Romantic Suspense/Christian Fiction
Letting go of the past is no longer an option in this three book series. The Victory Gospel Series introduces women whose pasts insist on walking beside them like a maddening visitor, unwilling to depart. Through a series of twists and life-altering experiences, these women learn victory over pain truly only comes in developing a deep trust in God.
Read More About This Series
Stepping Into Victory Compilations
GENRE: Women in Business/Nonfiction
Check out stories from the 22 real business women who contributed to the anthology I compiled,  When Women Become Business Owners.
Be on the lookout for the next anthology in this series in late 2016 or early 2017.
The Literary Entrepreneur Series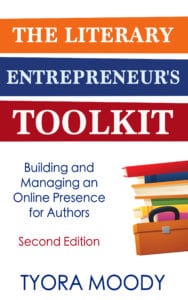 My Literary Services

If you are an author and you're interested in my literary services, visit me at TywebbinCreations.com. I design book covers, produce book trailers, coordinate virtual events and provide one-on-one coaching services. Here is a little more about my entrepreneur journey.