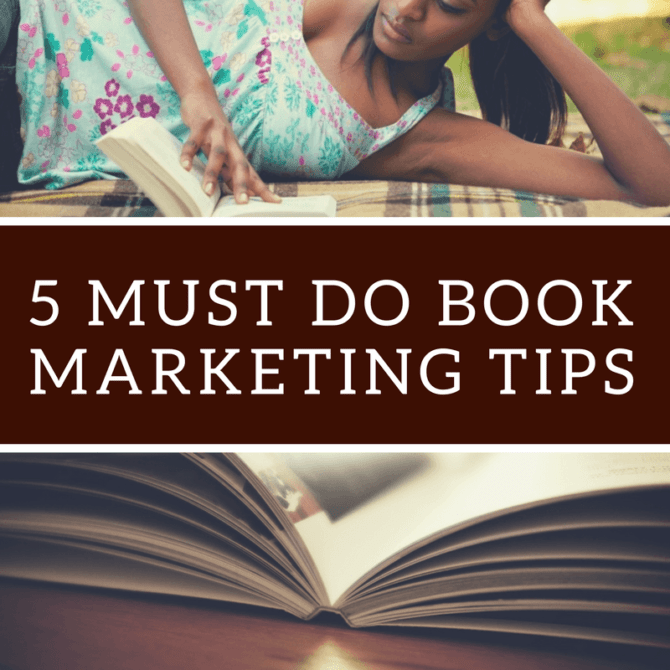 5 Must Do Book Marketing Tips
Whether you are a traditionally published or self-published author, daydreaming about your bestseller is not an option. As soon as you have a release date, it's time to get down to the business of book promotion. Listen to the podcast I did a few years ago or read the 5 simple book marketing tips below.
1 |  Start Early!
While you are writing the book, marketing should be considered. What are some themes or current issues that generate discussion or attract the media? Keep a notebook of ideas. As you draw closer to your release, use an editorial calendar so you are aware of special events, holidays, etc.
2 | Create a Website
Create a website first, then social media profiles and pages.  Your professional author website is the hub of your online presence. It's the one central location (that you own) where you can keep a downloadable media kit, free excerpts or send readers to sign-up for your mailing list.
3 | Join Social Networks
When you spend time building relationships using social media platforms, you have the potential to attract a readership or influencers for your book. Remember, the best form of advertisement is word of mouth. Now don't overwhelm yourself. Start with two. Or even one. Study the best times to post and be creative.
4 |  Seek Book Reviews
Family and friends are nice, but build teams of support by connecting with book bloggers and reviewers. Be sure to have review copies or galleys at least 3-6 months before book release, both ebook and hard copies.
5 | Market Your Book Consistently
I want to encourage you to spend anywhere from ten to thirty minutes each day on book marketing. You can use this time to brainstorm new ideas and evaluate what did or didn't work.  As an offline example, you can use the time to hand out postcards or bookmarks at an event.  Or spend quality time online scheduling posts or tweets to social networks.  Stay consistent with your book marketing. You can do it! Download the FREE Social Media Planning Guide.
This blog post was updated March 8, 2017. Originally published in 2013.