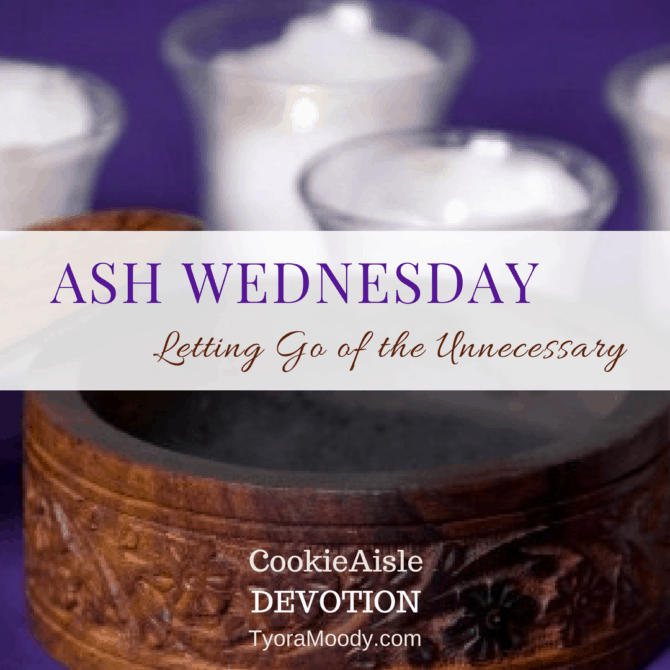 Ash Wednesday: Letting Go of the Unnecessary
Before I began my fifth grade year, my parents made the decision to take me out of the New York public school system. Fourth grade had not been a very good year for me, so I think my parents thought I needed a change. The change proved to be one of the highlights of my childhood … four years at Catholic school. While I'm a Protestant, Catholicism still fascinates me. I can still remember the Wednesday of each school year when the priest would stick his thumb in a bowl of ashes and make a cross on everyone's head. At that time, I didn't quite get the reasoning behind the smudge on my forehead.
Below are some main themes behind Ash Wednesday.
The 40 Days
And after fasting forty days and forty nights, he was hungry. – Matthew 4:2
Lent is the season of the church year in which Christians celebrate Jesus' life, death and resurrection during a forty day period. The forty day period is based on the 40 days and 40 nights (Matthew 4:2), Jesus spent in the wilderness fasting after his baptism. Satan knew Jesus was hungry and exhausted and proceeded to tempt Jesus to sin on three occasions, but of course Satan did not succeed.
The Ashes
And many spread their cloaks on the road, and others spread leafy branches that they had cut from the fields. And those who went before and those who followed were shouting, "Hosanna! Blessed is he who comes in the name of the Lord! Blessed is the coming kingdom of our father David Hosanna in the highest!" – Matthew 11:8-10
Ash Wednesday marks the beginning of Lent. The ashes used by the priests are from last year's palm tree branches (Palm Sunday – Mark 11:8-10).  Ashes in the bible were used synonymously with the word "sackcloth."  These both were signs that a person was sorry for his or her sins or in mourning. Many times an individual would tear his clothes, throw ashes on their head, sit in the dust and wear a sackcloth as a physical sign to others of repentance or mourning.
Fasting
When you fast, do not look somber as the hypocrites do, for they disfigure their faces to show men they are fasting. I tell you the truth, they have received their reward in full. — Matthew 6:16
Interesting enough by the time we get to the New Testament, Jesus pretty much states, sitting around looking pitiful while fasting is a no-no. Individuals of the Catholic faith, as well as some Protestants, do fast on Ash Wednesday. The dictionary definition of fast is to eat only sparingly or of certain kinds of food, esp. as a religious observance. Checking back in the dictionary again, I looked up the term religious. It means being faithful and conscientious. That "faithful and conscientious" part is something I need to work on daily.
It's not necessary that your fast involve abstaining from food. Many this week will begin fasts from Facebook and other social networks.  Now that's an idea!
I've had some other things brewing in my mind over the past few weeks. I am preparing to pull back from some things so I can re-focus. This year is just flying by and sometimes I feel like I'm spinning in the wind. I also need to break some bad habits. They say all it takes is 30 days to develop a habit and the same amount of time to break it.
If you are like me, thinking "I have got to do better," let's ask the Holy Spirit to open our hearts and to show us how to draw closer to Him. Ask Him what do we really need to be doing so that we can be a living sacrifice (Romans 12:1) for the Lord.
Let go of the unnecessary for the necessary.
It is only after we draw closer to the Lord, can we fulfill our work here on earth.
Originally published February 25, 2009