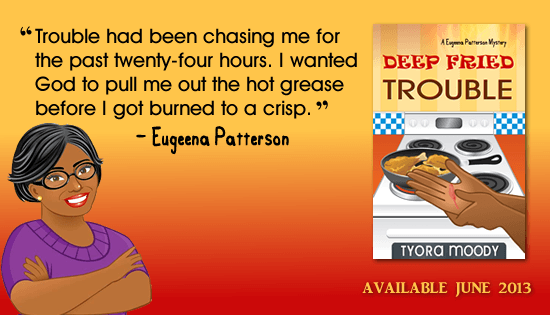 EugeenaPatterson.com Launches
I'm excited about launching a special blog for the Eugeena Patterson Mysteries. The first book in the series, Deep Fried Trouble, will be released in June 2013. For those of you who are curious about the genre, Deep Fried Trouble, is considered a Cozy Mystery. I love reading hard-core thrillers and suspense, but sometimes a mystery with a humorous twist is good for the soul and the funny bone.

Character Blog
I have always wanted to do a character blog and Eugeena seemed like a good fit. She is a baby boomer and has gone through some ups and downs health-wise over the past few years.  After writing  When Memories Fade last year, I started to develop more of an interest in health and the aging population.
A Bit More about Eugeena
Yes, before someone asks, I purposely spelled her name – Eu-gee-na.  African Americans have a history of being creative with names and the name just fit the comical older woman.
Eugeena is a retired school teacher, who spends her days enjoying her grandchildren and meddling in her adult children's lives. Recently widowed, she is adjusting to living in an "empty nest" and trying to control her diabetes. If that isn't enough, Eugeena manages to find herself in the middle of mystery.
Find out more about Eugeena at her own blog, EugeenaPatterson.com.