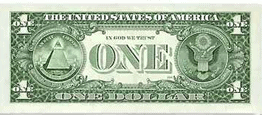 This devotion was originally written in 2000. It's been modified to reflect my thoughts now as more mature Christian. At least that's my prayer. Share your thoughts.
If you take a look at the coins or dollar bills in your wallet or purse. Some where on the back or front, it will state, "In God We Trust."  Trust. That's the topic for today's devotion.
One of the most practical areas of the bible is the book of Proverbs. Most of Proverbs was recorded by King Solomon, known to be the wisest man of all time (1 King 3:12). Like his father King David, Solomon was a good king. Unfortunately, Solomon didn't remain as faithful to God as his father. Even though he was the wisest man in the world, Solomon inherited a flaw from his dad, a deep love for beautiful women. Solomon went above and beyond by marrying 700 foreign women and keeping 300 concubines in his lavish palace.
Trust in the LORD with all your heart and lean not on your own understanding; in all your ways acknowledge him, and he will make your paths straight. — Proverbs 3:5-6
It really pleased God when Solomon asked him for wisdom. I wonder at what point in his life did Solomon record some of these quotable scriptures. For example, this same wise man tells us to "Trust in the LORD with all your heart and lean not on your own understanding; in all your ways acknowledge him, and he will make your paths straight." Sadly, Solomon shows us the consequences of not following the very words he recorded.
Israel enjoyed forty years of peace under King Solomon's rule, but for a price. It seemed logically (or wise) at the time for Solomon to marry or purchase all of these women in order to keep the peace with surrounding foreign nations. With so many beautiful women around him day and night, he stopped trusting in God and started worshipping foreign gods. As a result the peace that ruled for many years, dissolved into turmoil. Not too long after Solomon's son came to power, the kingdom of Israel split into two, bringing major weaknesses into the once united nation.
Some trust in chariots and some in horses, but we trust in the name of the LORD our God.– Psalm 20:7
Trust. Sometimes, I really wish I would follow verses 5 and 6 in Proverbs 3. It's a very simplistic plan for our lives. But as King David wrote, some of us place our trust in other things besides God (Psalm 20:7). We have some "chariots and horses" that come in the form of people and things in our lives. Sometimes, our worse enemy is us.
Trust placed in ourselves can eventually lead to a breakdown in our spiritual growth. We simply can't control many things in our lives. There are some areas of our lives we can choose to control.  From time to time, we should ask ourselves, "Who are you placing your trust in? What are they telling you? Are the conversations building you up or tearing you down? "
We need to evaluate the people around us like Solomon should have. Many individuals shape our lives with their opinions and actions. We may find ourselves resembling or acting like our parents as we grow older, adopting the same behaviors they warned us not to do. We may have adopted values society says are normal but how do they compare to the word of God.  Examine family, friends, significant others, co-workers, and all other individuals who you may have inappropriately placed your "trust".
I'm sure there were several moments when Solomon listened to one of "his women" and thought, this is NOT what God would want. But caught up in the moment or overwhelmed by so many women battling for his time, he conceded. If you have ever read the book of Ecclesiastes, you see glimpses of an older man with many regrets in his life, but still concludes all areas of life connect back to God (Ecclesiastes 12:13).
Beware of those who may not understand the changes you are trying to make in your life. Satan can and will use people (and things) around you to hinder you. Concentrate on trusting God first and foremost. Make it a habit to talk and listen to His guidance. He will never let you down and like he did for Solomon, he will provide you with wisdom and discernment in all areas of your life.
Those who know your name will trust in you, for you, LORD, have never forsaken those who seek you. — Psalm 9:10
SIDE NOTE: A perfect example of how this scenario plays out, read Up Pops the Devil by Angela Benson.