New Book Focuses on Women of Faith Business Owners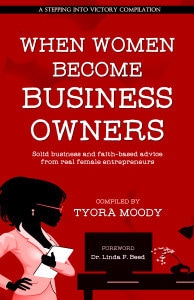 It's been quite a journey (almost a year long), but I'm very excited that my 2nd nonfiction project was released this week, When Women Become Business Owners (Tymm Publishing, June 2015). The first book in a compilation series features very transparent stories from 22 women who have become business owners in a variety of ways.
Some contributors were attracted to self-employment as children, while others found themselves having to make a way out of no way after job losses, divorce and other catastrophes. A handful work day jobs and pursue their business ventures at night, and the majority work for themselves full-time. They all have been an example of courage often under fire.
The idea behind the Stepping into Victory compilations came to me while I was finishing up When Perfection Fails. Each one of the main characters in the books, Candace – When Rain Falls, Angel – When Memories Fade and Lenora – When Perfection Fails were female entrepreneurs. It wasn't intentional on my part to make these women entrepreneurs, but it served as an example of how real life can be woven into fiction. I have been an entrepreneur for over 15 years, while keeping the day job.
If you're thinking why and how? Well, grab a copy of the book. I talk about this in Chapter 15 and 22 of the book. 🙂
You can order When Women Become Business Owners in paperback or as an ebook. Find the book online at Amazon.com,  BarnesandNoble.com, and in many other retail stores.  You can also purchase your favorite e-reader version: Kindle, Nook, Kobo, Scribd or iBook.
For more information about the book and the contributors, visit the Stepping into Victory website.