What's Next for Tyora Moody? Take a Sneak Peek!
I have seen a few times on social media where the question is asked if an author's book cover comes first or after a story is written. I'm one of those authors who starts working on a book cover not too long after I have a title in mind. You may be wonder how can I do this without a manuscript written.
I learned to do this from my years as an author under Urban Christian (Kensington). Once I announced I have ideas for the next book, the editor wanted to know the title, synopsis and even the marketing plan. Soon after this information was submitted the book cover process started and then I jumped on writing the manuscript. All of this happened about a year before the projected release date.
Usually titles come to me first. Once I have a title, I will start working on a synopsis. As you may know by now, I have several book series going so I know in my head for months (or years) where I like to see a character or the series go next.
So, up next on the writing schedule is the third book in the Eugeena Patterson Mysteries. I usually tackle Ms. Eugeena's mysteries every two years.  I hope to have this book ready before the end of the year. Read a working synopsis below.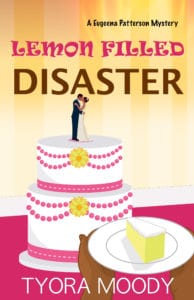 Lemon Filled Disaster
Eugeena Patterson, Mysteries – Book 3
Tentative Release Date: Winter 2017-18
Retiree Eugeena Patterson has picked up some new activities which include volunteering at an afterschool program and helping her future daughter-in-law plan a wedding. Eugeena is more than thrilled to see her son, Dr. Cedric Patterson, a longtime bachelor soon wed his girlfriend, Carmen Alpine.
During wedding planning errands, Eugeena notices a man is tailing her and Carmen. When Eugeena finds out the man is Carmen's ex-husband, this lessens her enthusiasm for the upcoming nuptials, especially since Carmen had failed to share this information about her past.
Later, when that man is found dead, Carmen becomes a suspect. As Eugeena begins to investigate Carmen's past, she's wondering if this wedding will ever happen.
Coming 2018
In 2018, I'm looking forward to revisiting Serena Manchester in her second book and also tackling the youngest brother of the Reed Family. I haven't written a book with a male as the main character carrying the entire story so this will be a challenge for me.  Read working synopsis below for both of these books.
Bittersweet Motives
Serena Manchester, Book 2
Tentative Release Date: Summer 2018
Serena Manchester has transitioned into her new career as a private detective. The Clayton Matthews Law firm sends a few investigations her way that pay the bills, though the work is hardly exciting. However, a shift occurs one day while she is taking photos of a prominent politician, Edwin Peters, with his young mistress. The hot and heavy scene takes a turn for the worse when the man begins to strangle his lover. Debating whether to blow her cover to rescue the lover, a panic-stricken Serena is relieved to watch the young woman escape the scene with her life. When Savannah Langston shows up dead later, Serena has no doubt that Edwin Peters is the prime suspect.
A monkey wrench is thrown at her theory when Serena realizes her client, Mrs. Judith Peters, has just as much motive to kill the young woman. Savannah was the final straw that broke the tumultuous Peters marriage, and Judith's alibi is highly suspicious.
As the investigation heats up, Serena decides to keep Minister Trey Evans at a comfortable friends-only distance. Frustrated with Serena rebuffing his advances, Trey becomes increasingly involved with her rival, Queen Bradley. Forever the competitor, the battle is on, as Serena finds herself turning back to conniving old habits that may push Trey away forever.
But she's going to need those hard-nosed tactics to find a murderer because the suspects keep piling up. The more Serena digs into Savannah's ugly past, the more people she finds with motives to kill the young woman. Which one of these people succeeded in killing the troubled woman?
Gentle Heart
The Reed Family Series, Novella 4
Tentative Release Date: Fall 2018
Crime Scene Investigator Cori Reed is a certified geek who's finally found the one. He's been dating his co-worker Sarah Jennings for almost a year and is seriously thinking about popping the marriage question. When Cori is called to investigate a homicide crime scene, he soon realizes that Sarah has become a suspect. He's determined to find evidence to prove her innocence.
Cori knows that science doesn't lie, but when the evidence continues to point towards Sarah, can Cori make the right decision despite what his heart says?
—
Stay in touch with me on social media! I will keep you updated on my progress. I try to plan for the future, but life happens and dates are subject to change. 🙂