Relentless Heart, The Reed Family Series, Novella 3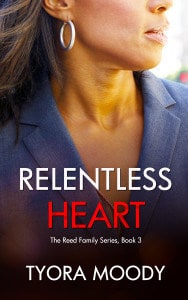 COMING SPRING 2017
Assistant District Attorney Asia Reed is relentless about not losing a case. But she's fighting a losing battle in the faith department. Now approaching forty, never married and with no children, a growing sense of unease has made her weary about her career and life.
When a former boyfriend and prominent defense attorney is gunned down in his office, Asia is jolted into action, determined to find out who's responsible. Only hours before his death, Adam Locklear wanted to speak to her about one of her former cases. Did Locklear's death have anything to do with the information he wanted share with her? Is her own life in danger now?
Detective Isaac Coleman seems to think so. As Asia digs further into the investigation, she faces an old enemy and gains an unexpected ally. Overwhelmed with the direction of the case, will Asia let God fight this battle for her?